Economics, organization and management of enterprises, industries and complexes in market conditions: methods, mechanisms, tools and technologies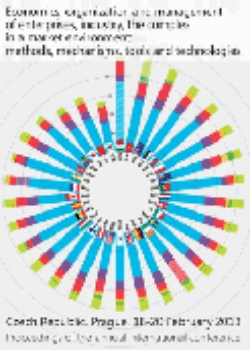 Сборник материалов международной научной конференции.
Czech Republic, Prague, 18-20 February 2013.
Сборник включает в себя материалы ежегодной международной научной конференции «Экономика, организация и управление предприятиями, отраслями, комплексами в условиях рынка: методы, механизмы, инструменты и технологии», состоявшейся в Чехия, г. Праге 18-20 февраля 2013 г. Главная цель конференции – развитие содружества ученых и практиков в сфере экономики. В работе конференции приняли участие ученые и практики из России, Татарстан, Башкортостан, Удмуртской республики, Казахстана, Украины.
| | | |
| --- | --- | --- |
| 1. | The development scenarios of the Russian automotive industry on the verge of the next technological revolution | 12-23 |
| 2. | Investment process: analysis of barrier and restrictive factors | 24-30 |
| 3. | Some features of the organization of management of the the professional development of the the heads of educational institutions in a district educational system | 31-34 |
| 4. | Assessment criteria of the company's project activity | 35-37 |
| 5. | Accounting-and-information support of economic entity activity management process | 38-44 |
| 6. | Governmental control as a component of mechanism of the public-private partnerships project's implementation in Russian Federation | 45-51 |
| 7. | Protectionism in the system of the World Trade Organization | 52-55 |
| 8. | Тourism cluster development prospects on regional aspect in Кazakhstan | 56-62 |
| 9. | Growth of competitiveness of engineering production of Russian Federation due to joining WTO | 63-67 |
| 10. | Innovations development problems of enterprises of Russian Federation | 68-71 |
| 11. | Infrastructure of the Funding Sources' Development System | 72-76 |
| 12. | Realization of Insurance Institution in Russian Renovating Economy | 77-83 |
| 13. | Specialist degree and Baccalaureate + Magistracy. Advantages and disadvantages | 83-88 |
| 14. | Investment policy as a factor of region development | 89-92 |
| 15. | Institutional aspects of entrepreneurship | 93-97 |
| 16. | Philosophical and profit-making significance of international financial reporting standards (IFRS) for owners of the capital | 98-101 |
| 17. | State regulation of the priority directions of economic development of Khanty-Mansiysk Autonomous Okrug - Yugra | 102-105 |
| 18. | Concept of «Social Capital of territory» | 106-110 |
| 19. | Economic Development of a Region | 111-116 |
| 20. | Effective Application of Regional Property | 117-122 |
| 21. | New priorities of the economic policy of Kazakhstan | 123-131 |
| 22. | Economic organizational mechanism of business process management | 132-136 |
| 23. | The basic economic models of fiscal federalism in the world and Russia | 137-145 |
| 24. | Effective Management of Industrial Enterprise as Basis of Regional Economic Development | 146-151 |
| 25. | Operational risk of electronic money systems: causes, types and effects | 152-155 |
| 26. | Independent Evaluation of Government Programs – a Tool to Ensure Transparency and Accountability of State Administration. Experience of Kazakhstan | 156-164 |
| 27. | Theoretical Model Motivation Of Engineers | 165-172 |
| 28. | Particular features of innovative management in oil and gas complex of Russia | 173-180 |
| 29. | Innovation potential evaluation of Hot Dry Rock Geothermal Energy technology | 181-188 |
| 30. | Modeling territory of sustainable development: problems of economic growth | 189-192 |
| 31. | Mergers and acquisitions in the Ukrainian market | 193-196 |
| 32. | Improving analysis and planning сase study Case study agricultural production co-operative "Zayralsky" | 197-205 |
| 33. | Indicative planning as a form of microeconomical development's state planning | 206-210 |
| 34. | The main ideas and content of Balanced Scorecard | 211-215 |
| 35. | Clusters` transformation of a regional flax complex (on the example of Vologda region) | 222-225 |
| 36. | Innovative methods of improvement of activity of the enterprise | 226-233 |
| 37. | Conceptual model of a sustainable development of the region agrarian sector | 234-242 |
| 38. | Project Finance as a factor of growth of investment activity | 243-249 |
| 39. | Planinng of marketing activities | 250-255 |
| 40. | Administrative mechanisms of municipal development in the region | 256-258 |
| 41. | Innovative potential of region clusters | 259-263 |
| 42. | The methodological basis for evaluating the development of the housing Fund of a large city (on example of Vladivostok) | 264-268 |
| 43. | The experience of the Accounts Chamber of the Republic of Tatarstan on formation of the integrated system of state and municipal financial control, carrying out the performance audit | 269-272 |
| 44. | Main tendencies of innovative development in the economy of the Krasnoyarsk territory | 273-280 |
| 45. | The role of innovative strategy of clusters for regional and national competitiveness | 281-284 |
| 46. | New going near the analysis of capital structure for and to her influence on the competitiveness of enterprise | 285-288 |
| 47. | Applicability analysis of current methods for calculation of financial indicators of investment business planning | 289-291 |
| 48. | Modern approaches to the definition of the resource potential in the regions of the network of commercial banks | 292-296 |
| 49. | Management system of certification bodies as a tool for meeting the requirements for modern accreditation system of the Russian Federation | 297-301 |
| 50. | Problems of activating innovative scientific activities with the agricultural industry and their solutions in the Russian regions | 302-310 |
| 51. | Improvement of programming of social and economic development of territories based on a quantitative assessment of quality of the created and consumed goods | 311-315 |
| 52. | Risks and threats for modernization of agricultural economics in the North of Russia to WTO | 316-322 |